This caution is directed at owners of .455 Webley revolvers - or any other revolver originally chambered in .455 for that matter - that have been converted in some manner to chamber and fire .45 ACP cartridges in moon clips (or .45 Auto Rim cartridges without moon clips)
You will likely have been told (or have read) that it is fine to shoot "factory" or "GI Spec" .45 ACP (or .45 Auto Rim) cartridges in your altered .455 revolver, and you may well already have put many such rounds through your revolver without mishap.
Please be aware that in the view of many who are familiar with these revolvers IT IS NOT SAFE TO FIRE SUCH ROUNDS.
Please consider these facts -
1. The operating pressure for the Mark VI Webley revolver (the last, and

strongest

, of the .455 Webley service revolvers) was a maximum of
13200PSI
(i.e. six 'long tons' of 2200 lbs).
2. The

standard

operating pressure generated by milspec and full factory loads of .45 ACP ball ammunition is
19,000PSI
.
3. The pressure of .45 ACP milspec and standard factory loads
exceeds the proof load
for the Mark VI Webley revolver.

4. The dimensions of the chamber throats on Webley service revolvers are a bit variable, but generally are smaller than bore diameter for some reason - but this system worked well with the original hollowbase bullet design, which was quite soft (20/1 lead/tin) and

non-jacketed

. These soft bullets swage down passing through the chamber throat (.... my own view is that this was intentional, to get the most out of the relatively small powder charge, and thus maximize the velocity produced ....) but then the base expands nicely to engage the rifling in the bore.

However

, the general consensus is that

jacketed

bullets (such as those loaded in most GI-spec .45ACP ammo) can work to dramatically increase the already excessive chamber pressure generated by such rounds.

5. Furthermore, the earlier models of .455 Webley service revolver were not as strong as the Mark VI. Indeed, the Mark I, Mark II and Mark III revolvers were
in fact
designed for black powder loads.
Although it cannot be denied that many .455 Webley revolvers have survived being subjected for a long time to standard .45 ACP ammunition, that is equivalent to having been fed a steady diet of proof loads. Simply put, it is a testament to the sturdiness of Webley service revolvers, but can hardly be considered either safe or advisable!
Failures can - and do - happen! For example, here is one altered Webley Mark VI which suffered a catastrophic failure firing .45 ACP ammunition -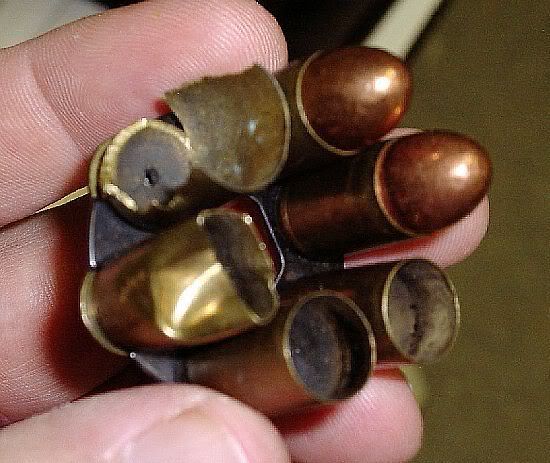 In the above photos note that, not only did the cylinder rupture, but the barrel catch (i.e the stirrup which engages the rear of the top strap when the revolver is closed up) has obviously failed as well. Here are some photos of another Mark VI Webley altered to fire .45 ACP, posted by a chap who had just purchased the revolver. Note that the barrel catch had obviously been brazed to repair a similar failure. We were able to caution this fellow that the revolver was likely unsafe to fire with
any
load, and steer him to where he could get a replacement barrel catch .....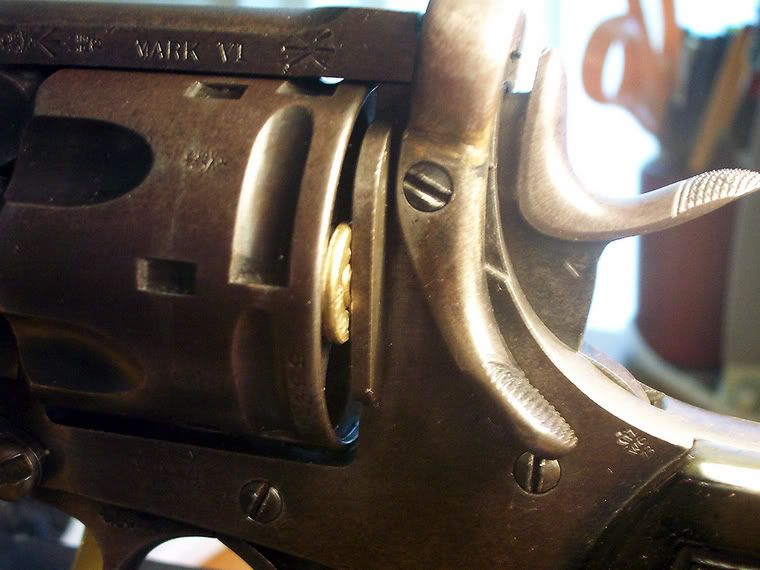 You may be wondering what you can do with a .455 revolver altered to take .45 ACP cartridges. Fortunately, if otherwise still sound, the revolver should be quite safe to fire using .45 ACP (or .45 Auto Rim) cases with

non-jacketed bullets

and
reloaded to .455 levels.