I have lurked but not posted on this forum (Sniders have been keeping me busy) but I was inspired by Jim Durling's posts and a local dealer had a Monkey Tail Carbine. So, to make a long story short, it is now mine and I wanted to share my find while I lightly clean and collect shooting supplies!
The carbine is very similar to Jim's but later 1874 production.
It seems to be in good working order and has a very clean bore. It is missing the Ram/Cleaning Rod and the Rear Swivel but otherwise complete. (Sorry, I couldn't get the next photo to resize...*%&#%&)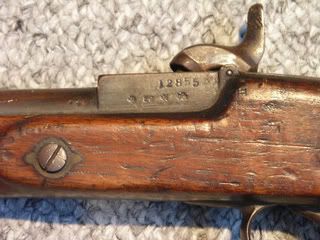 Jim, I thought you might find what I found in the butt-trap interesting.
What is the sliding steel piece on the Wad Pusher? It is threaded inside (on the right side in the picture) but much larger in diameter than the cleaning jag.
If anyone has the correct dimensions of the cleaning rod, I would greatly appreciate it if they would post them. I have a lathe and ability...just need to know when to stop cutting! Also, if anyone could take a close picture of an appropriate rear swivel (approx 1" width) I would like to see what I'm looking for.
Somehow, I going to feel sorta funny going into a store and asking for "rolling papers"...honest, I'm going to make cartridges with them...
Thanks for letting me share.
Larry