Years ago when I was still sporting a single digit age, my uncle who lives is Newcastle, South Africa showed me his HUGE gun, a Martini Henry. Back then I was a lot shorter and smaller and the gun was huge. Everytime we visited, I asked my uncle to show me the rifle.
I have not seen the rifle in ages since and only had vague memories of it. Have not been in Newcastle for years.
Recently my aunt came to visit and she saw me fondling my Magazine Lee Metford, rebarreled with a Enfield barrel. She said that my uncle still has the old Martini and he is going to have it deactivated and mounted. It is a piece of Family Heirloom in the Prinsloo family, it belonged to my uncle's great grandfather and was passed on to a son with the same initials (H.F.P - Hendrik Frederik Prinsloo).
Hearing the plan I blew a gasket... told my aunt that they cannot have it deactivated. I told her that I will assist my uncle in getting a license for it and also assist him in finding someone to reload for him so he can shoot it.
A week later I receive a phone call, it was my aunt saying that they decided they will give the rifle to me as nobody has any interest in it in the Prinsloo family. I am not a blood relative of my uncle, so it is a big deal as only sons with the HFP initials may own the rifle and it was always a big ceremony when the rifle was passed on from father to son.
I was stunned, could not believe what I was hearing. Best of all (I am still doing research) the rifle might be linked to Boer Commandant Hendrik Frederik Prinsloo who fought in the Anglo Boer war. It bears the initials HFP.
Did not know what to expect though as I did not see the rifle for years. Did not know if it was a Mk1,2,3,4 or whatever. Also condition was a big gamble as it was stored wrapped up somewhere in a secret place. So I know it has not been cleaned for years. Also my uncle said he fired it twice and found the recoil to be most uncomfortable, so he never shot it again. So I also did not know if he properly cleaned it after he shot it or not.
He said he will bring it with the next time he comes to Pretoria.
So on the day of their visit, he pulled out the old rifle. To my delight it was in superb condition with zero pitting externally except for a little bit around and on the front sight. But it was very dusty and dirty. And even more of a surprise, it was a Martini Henry MkIV. They are quite scarce in South Africa. Bore was very dirty and full of cobwebs. A whole generation of critters have been born and raised in the barrel.
Problem though, its rear sling swivel and cleaning rod were missing. Luckily I was able to get a replacement sling swivel at a specialist dealer, but I am still looking for a cleaning rod. Can order one from IMA, but shipping to SA is very expensive, so I am waiting for the Rand/Dollar exchange rate to improve a bit.
The rifle was very dirty, did not function cleanly when the lever is cycled. The tigger was very stiff and did not return when pressed when the gun was not cocked. Thought that I might be in the market for a new trigger spring.
Stripped the rifle, removed years of mud and gunk. It seems that the stuff protected the bits inside as once cleaned, everything looked as if it was brand new, with patina of course that gave away its age.
After a mountain of cleaning patches and a whole bottle of ballistol, the barrel was sparkling. Reassembled the rifle and it functioned like swiss watch. 
Pictures are worth a thousand words. The wood is stunning... the gun is in exquisite condition for its age.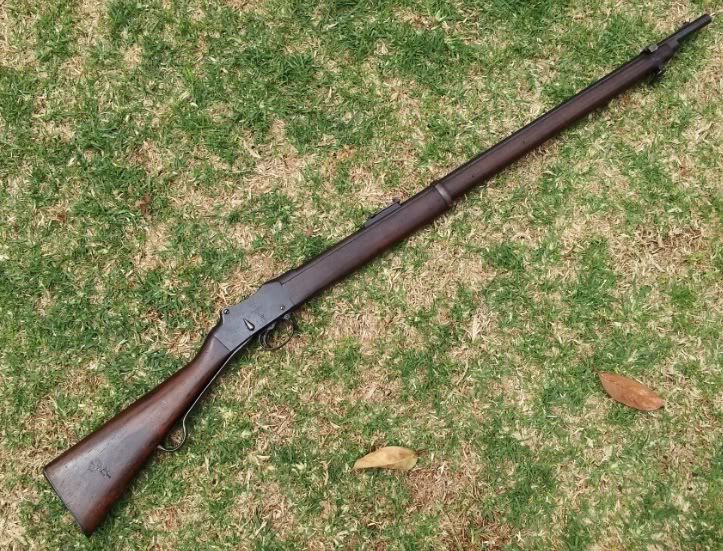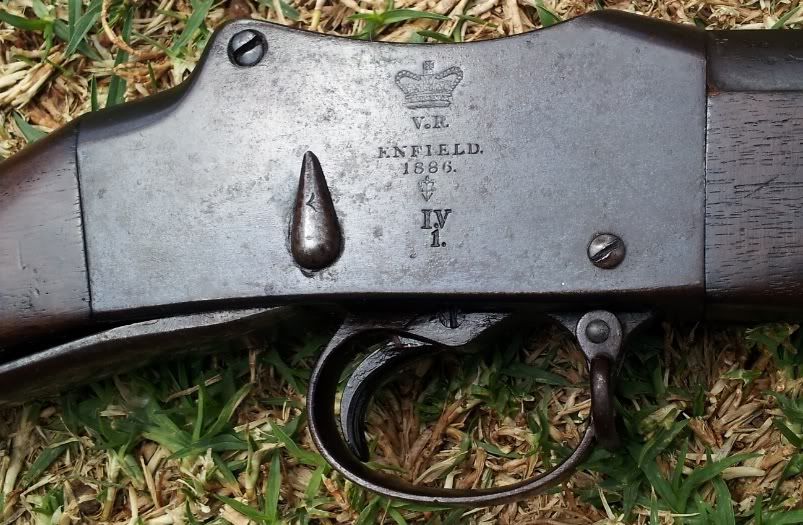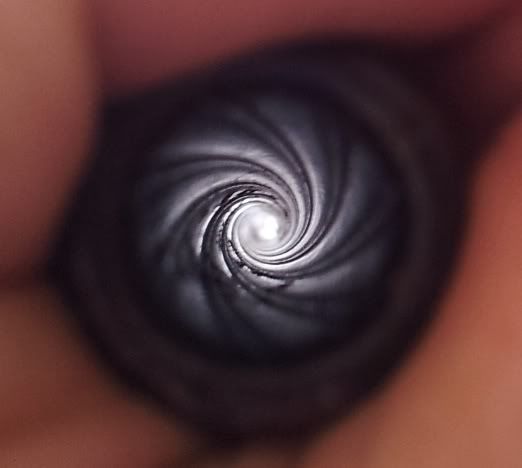 This photo of the barrel was taken before I really started scrubbing. All the marks cleaned out and it is now very clean. No pitting.. NOTHING. The chamber is also clean and the throat is still 100%.

The sling was made for me by a Leather Worker who also has made me a beautiful replica of a Magazine Lee Enfield Bandolier.
Shooting the old veteran:
I have done some reading up about how to load for the rifle. Ignored the people suggesting smokeless powder as I am to afraid it will damage this pristine rifle. Black Powder was the only option.
I am a student on a budget, so I cannot afford all the tools and stuff you need to load drawn brass cases, so I opted for straight bored lathe turned brass. The benefits are that the brass does not need resizing so I did not need a sizing die. Also it has reduced volume, so you cannot overcharge the case. It takes about 75gr (weight) of FFFG, which still allows the bullet to be seated deep enough.
On recommendation by a gunsmith who has vast experience with martini's, I bought a secondhand LEE 405-459-HB mold. It drops .461 sized bullets. I was told I should cast with pure lead so that the hollow base opens up easily and seals in the barrel. Also said there is then no need to paperpatch.
The bullets are a tight fit in the lathe turned brass and there is not space for paper patching.
Here is my load:
-Lathe Turned Case
-405gr .461 Hollow base pure lead bullet
-Winchester large pistol primer
-75gr (weight) of FFFg Black Powder (WANO)
-12mm Beeswax dipped cardboard over-powder wad (punched from a cover of a counter book).
Here are two videos from the two times I have been to the range with my Martini: